Gardsby Stormatic Villarose.
National Champion 2012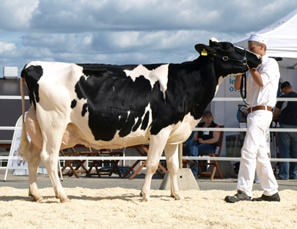 Faba co-op
Faba is the trademark for animal breeding and artificial insemination in Finland. Faba provides services ranging from artificial insemination and embryo transfer to genetic evaluations and breeding advising. Faba is a co-operative, strong organization with a wide network. Faba is owned by its 16 000 members and employs more than 400 people. Turnover in 2009 was 25 m€.
Faba's main service-products are:
Breeding advising, breeding plans at herd level
Animal and embryo trade
Artificial Insemination, fertility and embryo transfer services
Farmer store
Herdbooking
Breeding values
Beef recording, health recording
Export of animals, export and import of embryos
Bull dam candidates, classification of daughters of testbulls and bull dams
Magazines for cattle and swine breeders
Faba is the official breeding organization of cattle breeds in Finland with a license to keep herdbooks for 18 cattle breeds: Ayrshire, Holstein, three variations of Finncattle, Jersey, Brown Swiss, Hereford, Limousin, Aberdeen Angus, Charolais, Simmental, Piemontese, Highland Cattle, Blonde d'Aquitaine, Dexter, Galloway and Texas Longhorn.
Faba is also responsible for the gene resources of Finland's most common dairy breed Ayrshire and the rarer breed variations of Finncattle. Through a sustainable breeding scheme and with the help of national animal breeding and animal gene resource committees, Faba's goal is to enhance profitability of production in an ethically and environmentally sound way.
Holstein is the second most common dairy breed in Finland with 90,437 milk recorded cows in 2013. Average milk yield in 2013 for Holsteins was 9,518 kg, average fat percent 3.96 % and average protein percent 3.29 %. The best Holstein cows of 2013 milked more than 20, 000 kg. The best Holstein cows in Finland have achieved a yield of more than 21 000 kg milk.
Through Nordic co-operation Faba has better resources to react to changes and overcome domestic challenges. With Swedish and Danish breeding associations Faba is one of the owners of a joint Nordic artificial insemination centre and breeding society, VikingGenetics.
Environmental awareness is paramount in Finnish animal breeding. The aim is to utilize natural resources in an economically and socially acceptable way. Breeding characteristics are selected not only for their affect on profitability and quality of production but to improve the health, fertility and stability of animal itself.
Faba's mission is to serve farmers by providing and developing ethically sound, competitive breeding services of high quality that enhance the profitability of production. For its owners Faba brings added value by efficient operation and ongoing research and development of services and products.