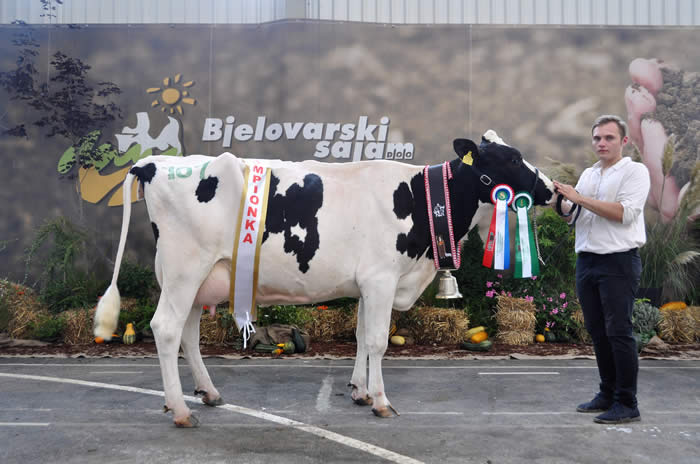 Croatian Holstein Breeders Association
Croatian Holstein Breeders Association has established at year 2008. Association of Large Scale Daily Farms " Mliko " and 10 inter-county associations, now make up Croatian Holstein Breeders Association. In Association are existing assembly, steering committee, president, supervisory board and professional breeding board. The total number of cows in Croatia in year 2009 according to data from the Unique register of domestic animal, was 224 719, where 184 465 cows are under recording. Out of the total number of cows, 171 247 recorded cows are on family farms and 13 218 on the large enterprises.
According to breed structure of recorded cows, Simmental is represented with 65 % and Holstein with 29 % and 6% are other breeds. The representation of Simmental breed decreased for 3.7% compared to the previous year, and the Holstein Breed increased for 3.2%, which is a trend for the breeds in last few years. From the total of 23 434 breeders in 2009, the number of farms regarding herd size is still large in group with 1-3 cows with 37.1%. The number of breeders with 4-10 cows in the herd decreased to 43.68%.
At the same time, there was a slight increase for 0.56% of farms with 11-15 cows in a herd and growth of 0.14% with 16 and more cows, which for these two categories increased from 18.52% to 19.22%. The number of recorded Holstein cows is 54 000 and number of milk recorded cows is 46 000. For the Holstein breed 24 249 standard lactations were calculated with 6 555 kg of milk, 3.95% milk fat and 3.28% protein.
The biggest support for developing Croatian Holstein Breeders Association is giving Croatian Agricultural Agency ( Department of Breeding Association Development Support ).