2013 European Champion
Decrausaz Iron O' Kalibra.
Winner class 8. Senior Holstein.
Best Udder in class.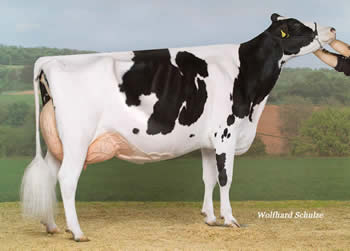 Holstein Association of Switzerland
Qualities of Swiss Holstein
After years of strong selection on production, conformation and herd life, Swiss Holstein are now high yielding, functional cows with good resistance to diseases, good fertility and healthy udders. Swiss Holsteins are adapted to pasture and to the specific feeding restrictions required to produce high quality milk used for the making of the famous Swiss cheese.
Tasks of Holstein Switzerland:
Herd book, performance recording and breeding program
Open herd book
Milk recording: 75% of the cows are milk recorded following method A4, 25% following method AT4. Milk samples are analysed at association's own lab.
Type classification:  all first lactation cows are classified, later parity cows on breeders' request.
Routine genetic evaluation for production traits, type, somatic cell count, fertility, longevity, milking speed and calving ease, including genomic breeding value.
Total merit index (production 45%, type 20%, longevity 10%, health 25%)
Progeny test program for AI centres (30 young sires per year) including young sire catalogue, performance recording, genetic evaluation as well as incentives for test herds.

Member services
Online access on animal data.
Extended management information: herd statistics for production, type, somatic cell count and fertility.
Internet mating plan and herd management follow-up.

Promotion and others
Breed promotion
Support of shows
Representation of interests
Import and sale of embryos
Judges' school
Jowis Incas Flavia
Owner:Zingre-Thomi Erich, Grund b. Gstaad
Champion Red Holstein
Swiss Expo 2016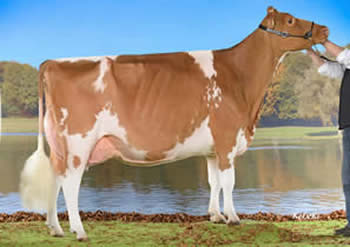 Bopi Talent Lautanie
Owner: CE Oberson + Pasquier, 1625 Maules
Champion Red Holstein
Expo Bulle 2016